About us
Our Kilimani Kwetu project started in 1993.
Of course, this was in the days when tourism in Zanzibar was in its infancy.
Thanks to the very open friendliness of the local villagers plans were hatched to build a small hotel offering the locals employment opportunities and at the same time allowing tourists to get a closer feel of village life.

Slowly but surely Kilimani Kwetu started to develop. Some team members left and others joined.. The commitment to combining creative ideas from Africa and Europe and to local culture and economy continues to thrive.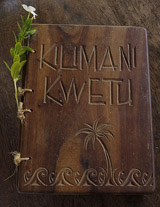 Kilimani Kwetu derives its name from "our little home on the mound". We are keen to offer locals and guests a "home away from home", and they will be well looked after by Pili, Chest, Naima, Martin, Chula and Wadi... here you will always find a big warm welcome.
Karibu as we say in Kswahili!